Windows Small Business Server 2003, Part 5
SBS2K3 Phone Activation
by Andy Goodman [SBS-MVP]
Earlier in the series we activated our installation via the web, which is the preferred method. When you use the web to activate it takes only seconds, literally. But there are going to be those times when it is just not possible. Either you don't have a connection for some reason, or like me, you reinstalled too many times. Yes I have reinstalled a number of times during this series as I always seem to remember something else I want to show you, after I am past the point. So in an effort to get you the truest picture of the process I just blow off the installation and start the installation over to re-capture my oversight.
So if you don't have internet connectivity or you are reinstalling one time too many you will get stopped in your tracks by the Activation Wizard. It will throw up a screen with an annoyingly long number (54 digits) and a couple of phone numbers.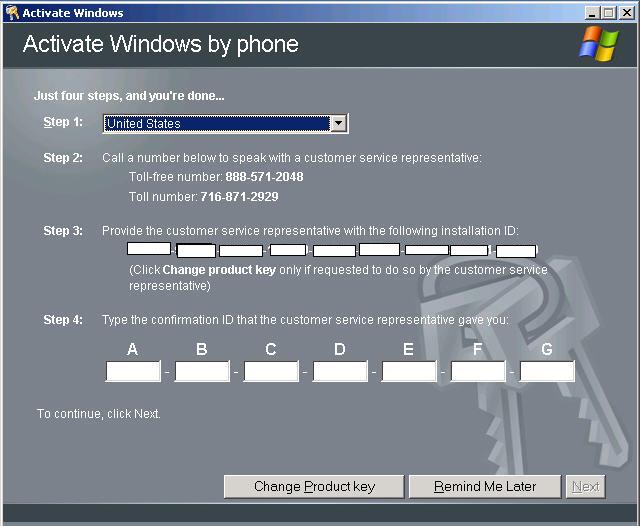 I just went through the process and here is what I found.
In the middle of a business day on the East Coast of the US I called the 888 number and got a busy signal. I thought to myself this is really going to be a pain. I had visions of wasting the afternoon on the phone. I called right back and the phone was answered on the second ring by a computer that wanted to know what product I was trying to activate. It was a painless process, I did not even have to push a button on the phone. Only speak the name of the product when the computer read it off it's list. Then with no delay the system transferred me to a human being. I explained the situation. He had me read him the annoyingly long number and then he read me back a slightly shorter number (only 42 digits) and it was done. The entire process was less than 5 minutes, I was impressed. I had feared the worst, but experienced the best! Technology is great when it works :>)
Next time the To Do List, I Promise! In the meantime, here is a link to some useful SBS2003 sites