Windows Small Business Server 2003, Part 1
SBS2K3 Hotlab
by Andy Goodman [SBS-MVP]
I thought I would start off this series with a heads-up about some great entry level training currently being offered by Assentus. If you are new to SBS or have been selling and/or supporting previous versions and have not had a chance to see or touch the new Windows Small Business Server 2003 this is a great chance to get your feet wet and see what it is all about. This is actually 2 classes, one in the morning and another in the afternoon. Please go to both, the content is different. Almost everybody from the morning session was back after lunch for the second session. Unless you have been involved with the beta affectingly know as Bobcat, I would say go and do these HotLabs. You will get a chance to see a lot of the cool new features of Windows Small Business Server 2003, and yes that is the new name, SBS has finally been brought into the Windows Server Group and is now an official version of the Windows Server Family which it had not been previously. Also new to SBS is different versions with different prices. There is a standard version sort of SBS lite which does not include ISA or SQL but does get you Exchange, Sharepoint, Fax, Remote Web Workplace and the tools to support it, all for under $600.00 (current US Pricing). Here is link to get you to Training Options where the HotLabs are listed. And by the way the majority of the cost of these classes is being subsidized by Microsoft, so they are only $25.00 each.
The Labs I saw were presented by a fellow named Quinn Guiteras. I have to tell you he is a great presenter, even if he didn't have such a great topic as SBS to talk about, you could just tell he would have kept the class captivated. Some of these HotLabs are being presented by Mr. SBS himself my pal Harry Brelsford. So either way you are going to get a great presentation, I was really bummed when I heard I wouldn't get to sit in on Harry's presentation, but Quinn left me feeling like I didn't miss anything.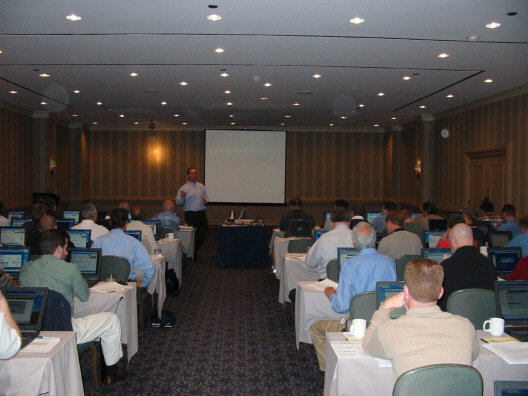 The audience ran the age spectrum from the young to seasoned veterans. All were really getting into the new features of Windows Small Business Server 2003, just take a look at some of the faces in the crowd. Some are smiling and enjoying themselves, some really intent on soaking up as much as possible.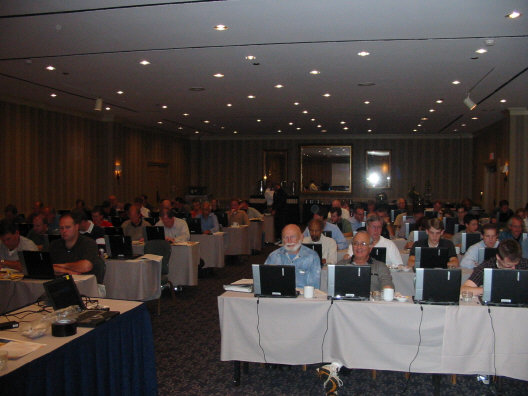 Most of the time was not spent watching PowerPoint Slides like so many of these things are. We spent a good 75% of the time actually do hands on things like configuring SharePoint Service, configuring Remote Web Workplace, actually running a small Backup, Learning about the new Volume Shadow Service which allows users to recover previous versions of a file and also Configuring the new Server Status Report tool. Everyone had the use of a laptop running Virtual PC and hosting Windows Small Business Server 2003, Windows XP as a Client on the Lan and Windows XP as a remote client. So it was like you had all 3 machines to yourself, and you could not only work at your own speed, but you could go off and investigate anything you wanted to without disrupting a partner as you would have in previous HotLabs.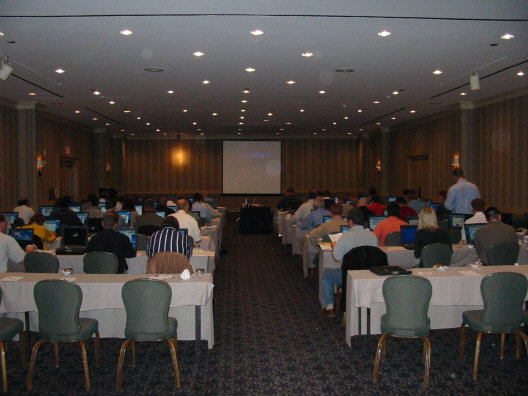 I was glad to see some ladies are finally starting to attend these things. They have been pretty scarce in the past, maybe one or two ladies at an event. But, at this training we had 6 women out of a class of 75 so the word is getting out that this training is for everyone. I heard we may even have set a record as this may have been the first class with 2 ladies in the same row who didn't know each other. (The picture is from the back so as not to embarrass them).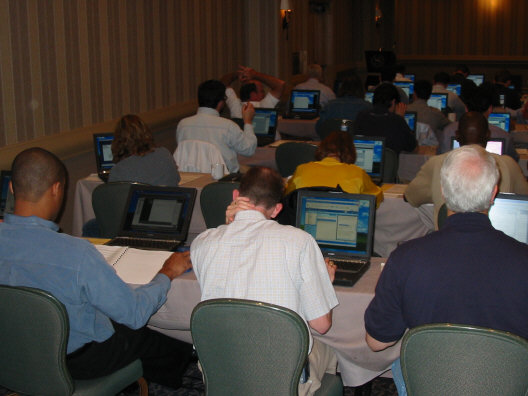 So here is my take on the days training, if your looking for in depth training this is not the class for you. But if you want to see what the new Windows Small Business Server 2003 is all about and do some Human Networking with your peers, this class is a must.
And speaking of Human Networking keep an eye on www.SMBnation.com for details of the upcoming second annual SBS Conference to be held in San Diego in September 2004. I was at this years event in Indy and I have to tell you it was fantastic. People are still talking about the valuable information they came home with. And after Harry's SBSmoble was completed, all the hardware was donated to GeekCorps. It was truly a Win-Win for all involved. I heard a rumor there may be a floating SBSmobile next year.
Coming up next time we will show an SBS 2003 Installation, in the mean time here is a link to some useful SBS2003 sites