Microsoft Small Business Server 2000, Part 12
BackUp Exec 8.6 and SBS
by Andy Goodman
Recently I rebuilt a server for a customer and in the process added a new bigger tape drive. The drive added was the OnStream ADR2.120Si which is a wonderful drive, but the lack of support from OnStream caused me to go searching for help elsewhere. Being a long time user of BackUpExec I was very annoyed when the OnStream Tech (danny) told me the only solution was to quit using BackupExec and switch to TapeWare. I called 3 times and got the same guy all 3 times who could not understand why I would not switch over to TapeWare for the slight fee of $799.00! Sure they give it to you for free, but it is the workstation version. Worthless for SBS or any real server for that matter.
On the Veritas web site I found a tech support e-mail link. Being desperate I sent in an e-mail figuring it would be ignored for days like most tech support e-mail systems I have used in the past. Within a minute or so there was the obligatory automated response, telling me someone would get back to me eventually. To my delight I heard another message hit my inbox within 15 minutes. It was from Vmail Support at Veritas. It started out with a disclaimer telling me this was an unsupported drive but to my even greater delight was the solution to my problem. Just change the block size from 1k to 64k or 512k. Now this is how all tech support should be. Also in the same message was a link to their tech update service and their knowledge base. In reading the knowledge base I found a number of SBS related issues that I will share with you here. But first off, if you are stuck installing one of these drives, don't waste your time with OnStream's support, here is the solution that worked for me,
1. Start the Backup Exec
2. Select the Properties of the ADR2 120si Device in the Devices Tab
3. Click on Configuration Tab.
4. Change the Block size from 1k to 64k or 512k. I found it to perform better at 64k but your mileage may vary.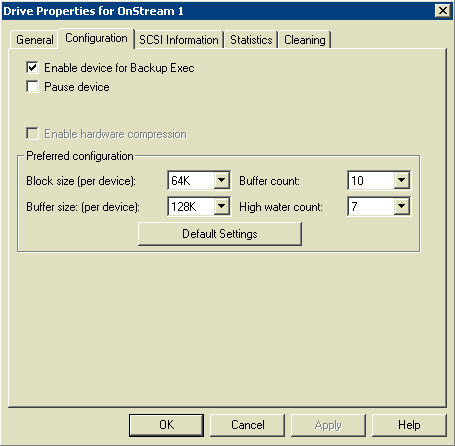 As for the knowledge base here is a link
http://seer.support.veritas.com/search/techsearch.asp

As for the drive itself it is a screamer, it backs up and verifies 30 gig in about 6.5 hours regularly. Hopefully they will improve the support.
Also as promised here is a list of the hot fixes you should apply (currently) if you are running the SBS 2000 and BE 8.6
All the files below can be found Click Here
First make sure you have the latest driver file currently bnt80idrv_230139.exe
Then load the following hot fixes at a minimum.
They need to be loaded in numerical order.
Hot Fix 8,
Hot Fix 13
Hot Fix 15
Hot Fix 33
Hot Fix 42
Hot Fix 43
Your individual circumstances may require other hot fixes, but I believe all installations of BE 8.6 SBS on SBS 2000 will require this list at a minimum
While your tweaking BE take a look at TechNote# 191472 if you would like to turn off that annoying virus signature message because you use another AV Solution.
Hope this was helpful!
Additional SBS Resources
DownHome Computers (my company) Specializes in Small Business Server
The folks at MCP Magazine have given us a Forum for SBS
A great book on SBS 2000 by Harry Brelsford, read the REVIEW
Mariėtte, Susan & Steve's SBS 2000 FAQ
Microsoft's SBS News Group HERE
Areas of SBS interest at SWYNK.com
WINDOWS SERVER AREA,
EXCHANGE AREA,
SQL AREA
Additional Windows Resources
Black Vipers Description of Windows Services 2000 Version and XP Version
The Elder Geek on Windows XP
.