GFI offers FREEWARE security scanner
(Yes it is really free, no strings, no time bomb.)
By Andy Goodman
GFI the makers of MailEssentials, FaxMaker, LanGuard and one of my old-time favorites Pop2Exchange just to name a few are giving away this new tool to let you check how much info your systems are advertising about themselves. The tool can probe a single machine, a list of machines a or even a whole subnet. It is a great tool. I have been using Gibson Research's free web tool Sheilds Up, but it only will check the machine you are currently running it from. The GFI Scanner is a Network Tool as opposed to a Machine Tool. It goes out and inventories the address range you give it. GFI did not want to hold up the release of their Scanner as "Security Breaches" are on the rise, so it may be a little while before the online manual is posted, but they assure me it will not be too long.
Click if you would like to read the entire press release of 8/8/2001
Of course GFI would like you to buy their products. Of course some marketing guru probably thought this up. But it is a great tool from a great company. Take advantage of it. If you like their work go to their website and buy some great software. In the old days we had really great Freeware and Shareware because honest folks did just that. Nowadays with all the time bombed "Teaseware" we see more and more junk out there.
Here is a shot of the type of information you can collect behind your firewall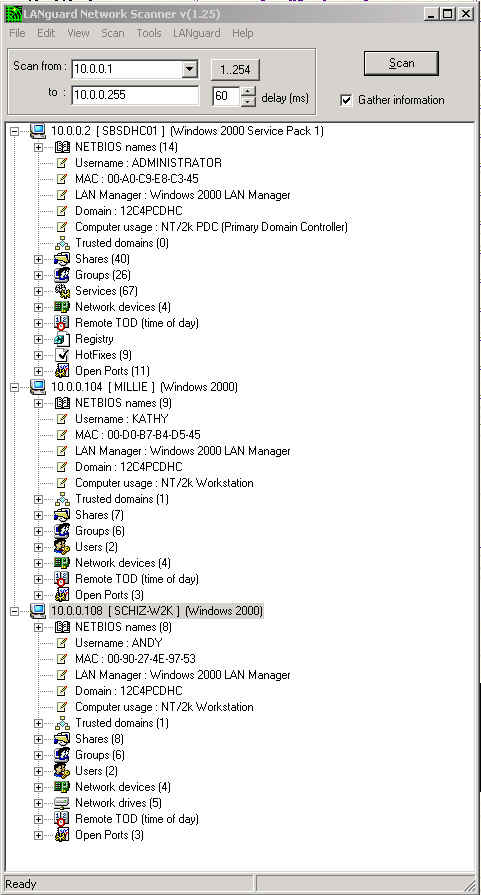 Here is one from in front of the firewall, the idea is to publish as little as possible.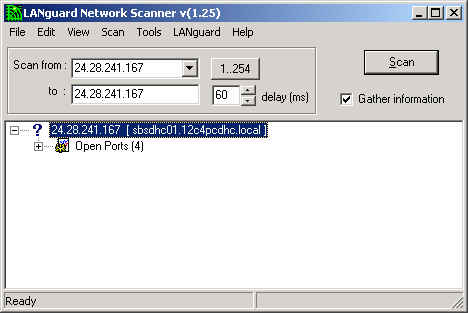 For immediate release

GFI OFFERS LANGUARD NETWORK SCANNER AS FREEWARE:

New tool enables administrators to secure their networks proactively


London, UK, 8 August 2001 - GFI, leading email and network security software provider, has launched LANguard Network Scanner, a security scanner to audit network security. In its bid to promote network security, GFI is offering this version as freeware.

LANguard Network Scanner can be used to make a network security inventory. It detects unnecessary shares, open ports and registries that are not secured, and check whether the operating system (OS) is 'advertising' too much information. It also does OS detection, password strength testing and much more. It scans an entire network based on an IP range, and compiles all the information in a HTML report.

New approach to security scanning
There are various commercial security scanning tools on the market today; most use a database of known security holes, for which they scan the network. Yet, because of the number of security issues discovered daily, these database-based products are almost immediately out of date.

With LANguard Network Scanner, GFI avoids this pitfall because the product innovatively allows the user to scan the network from a hacker's perspective. This way, LANguard's security scanner identifies all machines, their NETBIOS info, open ports, shares and more, giving exactly the same information that a hacker would have. With this information, LANguard Network Scanner users can proactively secure their networks by shutting down unnecessary ports, shares, and so on.

"Security breaches are on the rise. The Computer Security Institute survey issued last year, for example, reported that 90% of organizations experienced computer security breaches in the previous 12 months. GFI's goal is to help combat this," said Nick Galea, GFI CEO. "LANguard Network Scanner, which we are currently offering as freeware, will help companies implement basic security."

For more information about LANguard Network Scanner, visit
http://www.gfi.com/languard/lanscan.htm.

About LANguard Network Security Products
GFI's LANguard suite of network security products includes:
* LANguard Content Filtering & Anti-Virus for ISA Server - provides content checking and anti-virus of HTTP and FTP downloads and browsing, checking inbound traffic for viruses, malicious scripts and objectionable material;
* LANguard Security Event Log Monitor - provides intrusion detection through centralized NT/2000 security event log monitoring.
* Three freeware products, LANguard Network Scanner, LANguard Port Scanner and LANguard File Integrity Checker.
For more info, please visit:
http://www.gfi.com/languard/languard.htm.

About GFI
GFI (http://www.gfi.com) has six offices in the US, UK,
Germany, France, Australia and Malta, and has a worldwide
network of distributors. GFI is the developer of FAXmaker,
Mail essentials and LANguard, and has supplied applications
to clients such as Microsoft, Telstra, Time Warner Cable,
Shell Oil Lubricants, NASA, DHL, Caterpillar, BMW, the US
IRS, and the USAF. GFI has won the Microsoft Fusion 2000
(GEM) Packaged Application Partner of the Year award, and
was named one of 1999's fastest growing software companies
for Windows by Microsoft Corp. and CMP Media.

--------------------------------------------------------
For more information:

Send e-mail to Angelica Micallef Trigona - angelica@gfi.com
GFI Software Ltd - Malta:
Tel: +356 382418; Fax: +356 382419
GFI Software Ltd - UK:
Tel: +44 (0)20 8546 0640; Fax: +44 (0)20 8546 0741

Or contact any of the GFI offices below:

GFI FAX & VOICE USA
Tom Kucmierz
Tel: +1 (888) 2 GFIFAX
Fax: +1 (919) 388 5621
E-mail: tck@gfiusa.com

GFI FAX & VOICE Gmbh
Niko Makris
Tel: +49 (0)40 3068 100
Fax: +49 (0)40 3068 1010
E-mail: nmakris@gfigmbh.de

GFI Asia Pacific
Richard Rundle
Sales FreeCall: 1800-CALL-GFI
Fax: +61 (8) 8424 3199
Email: Richard.Rundle@gfiap.com


GFI - Security & communications products for Windows NT/2000
http://www.gfi.com